Best 5 Wine And Beer Fridge Beverage Combo In 2022 Reviews
Looking for a new refrigerator that can store your favorite beer and wine?
Then this is the right thing for you. I put together the best beer and wine refrigerators on the market and review them. Each one of them is different and brings something new and it is up to you to choose the one that fits your needs and desires.
Things You Need To Know About Wine And Beer Fridge Combo
Size Matters
When choosing the bar fridge you have to consider the types of beverages you are going to keep cool. The beer comes in cans and small bottles, so it is easier to find the space for them. The wine bottles are big and they require more room and for the best flavor, they should be stored at a specific angle. That is why you should choose the wine beer fridge carefully so that it can fit all inside.
Protection
Wine and beer refrigerators are not just for cooling the beverages for your next party. You can store in the beer and wine that needs aging. That is why you need to look for a tinted glass door that has UV protection or carbon filters that remove the odors or even motor padding to reduce vibrations.
Shelving
You would think that it doesn't matter which shelves are inside the fridge. Well, you would be wrong. When it comes to beer you want the wire shelves, glass or metal ones that can keep the cold temperature for longer. Wine, on the other hand, need the shelves that allow holding the bottle on the side for the moisture in the cork.
Multiple Zones Cooling
Another important thing about the wine beer cooler is the temperature. These beverages require different temperatures so you would need the fridge that has a dual or triple zone of cooling. That means that in each zone you can adjust the temperature as needed. One zone is for the beer, second for the red wine and third for the white wine. It is a much simpler way of keeping the right temperature than to find the optimal one for all three kinds of drinks.
Find The Right Price
If you thought that the wine and beer cooler is the thing that only wealthy people have, you are wrong. There are wine beer fridge combos that come at every price. You can find them from a couple of hundreds of dollars to a few thousand dollars. The different price brings different features, but you can get a great wine and beer fridge at your home for a great price.
Best 5 Wine And Beer Fridge
Best Wine And Beer Fridge Cabinet
NewAir Beverage Cooler
Dimensions And Size
This NewAir wine beer refrigerator is 35 inches high, 25.9 inches wide and 24.7 inches deep. This model weighs 114.3 pounds and it uses 140 watts power. It has a total capacity of 5.3 cubic feet and it can store 70 beer cans and 22 wine bottles in separate sections.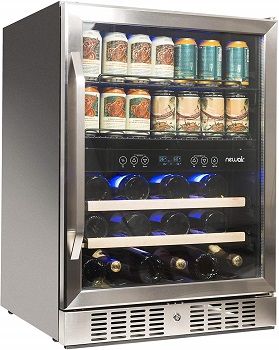 Build Materials
The cabinet is built of durable stainless steel and it comes in black finish. The glass door is triple-paned insulated with the stainless steel silver finish. It features a blue LED light for easier find of the beverage. the top of the refrigerator has 2 wire shelves for the beer and the bottom is reserved for the wine with three shelves.
Cooling System
This unit works on a powerful but quiet compressor cooling system. It runs with a little noise so it is suitable for family entertainment without any background noise. It has inside fans that ensure consistent airflow inside the cabinet. It also has a front ventilation system so you can easily build it in or leave it freestanding.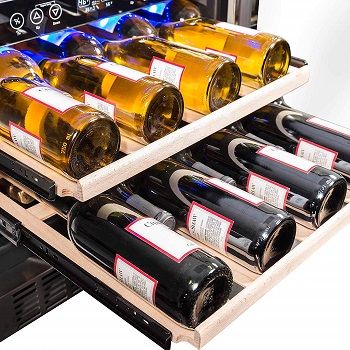 Temperature
There is a dual temperature feature for the two compartments in the fridge. The upper zone for the beer can be set up from 36 degrees to 50 degrees Fahrenheit and the lower zone temperature for the wine ranges from 50 degrees to 60 degrees Fahrenheit. The visual display makes it easier to monitor the temperature and it is easy to adjust as needed.
Lock System
This wine and beer fridge combo comes in a single unit, which means it has one door. If you are looking for the unit where you can safely store your beer and wine collection this is the one. There is a lock at the bottom and you get two keys for extra security.
Features:
Lock at the bottom
Dual-zone temperature settings
Quiet cooling system
Best Under Counter Wine And Beer Fridge
KingsBottle Wide Wine and Beer Cooler Combo
Quality Of The Materials
This is fully adjustable under the counter dual zone wine and beer cooler. It is ideal for any bar, restaurant or home. It is practical and durable with great capacity. The cabinet comes in black color and the silver stainless steel frame door. It is made for indoor use only.
Two Temperature Controller
This unit comes with dual-zone temperature controller. It features a high-end digital display for easy adjustability. You can adjust the temperature for the left unit that holds beer and for the right side unit that holds wine. The good thing about this wine beer cooler is that it is a double door unit so you can open just one side and the other side keeps the set-up temperature.
Embraco Compressor
To make sure that you get the perfect temperature and to keep it that consistent the unit works on Embraco Compressor. It results in a quiet cooler that is durable and stable. It has an excellent level of energy efficiency. In addition, it has DC fans that create consistent air-flow inside the cabinet.
Door And Shelves
When the wine and beer fridge is made with glass door it needs to be reinforced. This door is made with gas-charged tempered safety that has a stainless steel door frame. The shelves on the right wine side are made of wood and on the left side are chromed. They are fully adjustable for your needs.
Dimensions
This beer and wine refrigerator is 34.2 inches high, 38.8 inches wide and 23.2 inches deep. It weighs 181 pounds and it works on 80 wats. That makes the total capacity of 7.76 cubic feet. It also features an interior LED light and front vent system that allows the unit to be built-in.
Features:
The charged tempered safety glass
Quiet and durable cooling compressor
Adjustable shelves and racks
Digital display controllers
Best Freestanding Wine And Beer Fridge
Antarctic Star Bottle Cooler And BeverageRefrigerator
Keeping The Drinks Cold
The worst thing for beer and wine is high temperature. This wine and beer fridge offers you to store your beverages at the optimal temperature. You can even leave it inside for maturing and aging. The temperature ranges from 40 degrees to 61 degrees Fahrenheit so you can customize it as you need.
Ideal Storing Conditions
It is not only the temperature that is important when storing beer and wine. The reinforced glass door with airtight seal help to maintain the proper humidity level. The interior LED light showcases the beverages inside but it is important to remember that it doesn't have any negative side effects for the beer and wine. The modern and compact design of this fridge gives the perfect touch to your living room.
Storage Capacity
This beer and wine refrigerator can hold up to 36 standard bottles of wine or 26 bottles of wine and 24 cans of beer. The horizontal racking is space-efficient and perfect for wine. It features 1 wavy shelf and 3 straight wire shelves. It is the storage of 4.5 cubic feet in total.
No Vibrations
This is Antarctic Star wine beer refrigerator is equipped with an advanced cooling system and it keeps the beverages cool consistently without any vibrations and the noise is minimal. The adjustable leveling legs also help with the reduction of vibrations and noise. Also, keep in mind that this unit is for freestanding use only so don't try to build it in to reduce vibrations, just level the legs.
Features:
Wide temperature range
Reinforced glass door
Interior LED light
No vibrations
Freestanding use only
Best Dual Zone Beer And Wine Fridge
Lanbo Wine and Beverage Refrigerator
Storage Capacity
This dual zone wine and beer cooler can accommodate up to 18 bottles of wine in the left zone and up to 55 standard-sized cans in the right zone. That is more than enough storage space for any family gathering and party you might organize. It all can be stored under one appliance.
Digital Display
To adjust the temperatures in the two zones, there is a digital display to help you. The touch control panels are provided for easier adjustments and there are digital displays for monitoring the temperature in both zones. It is easy and practical and they are situated inside the cabinets but you can see them through the glass doors.
Compressor Cooling
You don't have to worry ever again about uneven temperature and cooling inside the unit. This powerful cooling system provides equal temperature throughout the unit and to make sure it is consistent it uses fans to build inside. They are efficient and they distribute even cool air through the unit.
Dula Zone Operation
The great thing about this unit is that it provides dual-zone temperatures. Beer and wine need to be stored at different temperatures. The left zone of the fridge offers the range of 41 degrees to 64 degrees Fahrenheit and the right zone offers the temperature from 39 degrees to 50 degrees Fahrenheit.
Size Of The Fridge
Just because this is a dual-zone unit with double door, doesn't mean that it will take too much of your space. It is 33.9 inches high, 23.6 inches wide and 23.4 inches deep. This is a compact combined beer and wine fridge that weighs 100.3 pounds and brings the total capacity of 4.59 cubic feet.
Features:
Dual-zone combo fridge
Wide temperature range
Removable shelves
Digital display
Best Mini Wine And Beer Fridge
Monoprice 2-in-1 Wine and Beverage Cooler
Dual Thermostat
This is the beer and wine mini-fridge with a little bit different concept. The lower level is constructed like a normal small fridge with two shelves and extra storage in the door. The upper level has a separate glass door and one shelf for the wine. That is why it features two thermostats so you can adjust the temperature in each zone as you need it to be.
Touch Screen Controls
On top of this small beer and wine fridge, there is a digital display of the temperature. It features a touch screen where you can easily adjust the temperatures. It also features a LED light inside so you can easily find what you are looking for. It is a small but modern and quality made fridge that won't disappoint you in the performances.
Thermoelectric Power
This fridge doesn't use the compressor for cooling but instead, it works on thermoelectric refrigeration. That means that the noise is reduced to a minimum and it prolongs lifespan. The thermoelectric coolers work best when they are in the place between 50 and 80 degrees F. It also means that it is light to move around and to place it where you like it to be.
Dimensions And Design
This mini wine beer cooler is 31.8 inches high. The width is 20 inches and it goes 23.8 inches in depth. It weighs 58.7 pounds. It comes in black color. The cabinet is black the door is black and the interior is black. There is a glass door on the upper level, where the beer is stored. That is why the LED light comes in handy when you are looking for something inside.
Features:
Dual thermostat
Touch screen controls
Thermoelectric power
Interior LED lights
Conclusion: Which Wine And Beer Fridge Will You Choose?
When it comes to the wine and beer you know that the right temperature is everything. That is why you need quality appliances to store them. When you realize that you can have both in one, there is no doubt in purchasing one of these. I have to say that the best on the list might be Lanbo Wine and Beverage Refrigerator because it has separated compartments for the beverages and it is compact size, or Monoprice 2-in-1 Wine and Beverage Cooler because it is practical and it works on thermoelectric power.
Which one will you choose is up to your preferences and the space you have for this appliance. But if you want more information here is the article about the best beer refrigerator. To learn more read my posts about beer bottle mini-fridge models.