Best 5 Outdoor Kegerator Fridges For Sale In 2022 Reviews
Are you the type of person that would love a cold draft beer in the comfort of your back yard?
Then I have the solution for you. Here is a list of the best outdoor kegerators you can find on the market. Also, I provided a few tips on what to look for in the kegerator and how to choose the right one.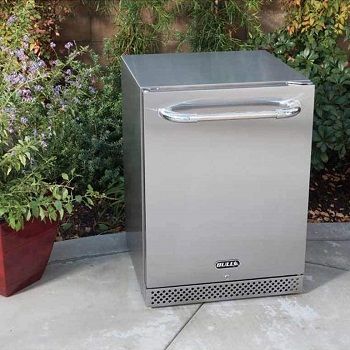 What To Look For In A Kegerator?
Type Of Kegerators
The first thing you have to decide is what type of outdoor kegerator you want. You can choose from three different types. There is a mini kegerator, freestanding and built-in. Each one of them has advantages and disadvantages which are decided by your specific needs and the space you want to out the kegerator in.
Size Of The Keg For Kegerator
Closely connected to the type of kegerator is the size of the keg. It all depends on the consumption and preferenced beer you like to drink. If you are the one who likes to drink a lot of beer but you can't get easily a new keg, you should go with the full-sized keg, but if you can buy easily more, the smaller kegs might be a good choice. Keep in mind that different breweries make a different kind of kegs. If you like a specific type of beer, go with the kegerator that can hold that keg.
Why Is The Outdoor Kegerator Different?
When it comes to the kegerators it is a serious monetary investment. And if you want yours to be outdoor, you need to make sure that the first rain won't make it unusable. The outdoor kegerators are made of reinforced materials so that they can survive through any weather conditions. Also, they are insolated inside so when the weather is hot, your keg won't feel a thing. That is why sometimes is good to buy outdoor kegerator even for indoor use.
Budget For An Outdoor Keg Cooler
The budget is always the biggest factor when buying things like a kegerator. To be honest, this is not a necessity but luxury so you want to pay attention to the price. The kegerators can go from a couple of hundred to a few thousand dollars, so in the end, it all comes too how much are you willing to pay.
Best 5 Outdoor Kegerator For Sale
Best Outdoor Kitchen Kegerator
Bull Outdoor Kegerator & Fridge
Full Kitchen Appliances
This is the perfect choice for an outdoor kitchen. You get a full-size keg cooler and dispenser made of spotless steel that you can build in. In addition to that, so you don't have to run inside, you will get a stainless steel fridge for anything else you need to keep cool.
Kegerator Specifications
This kegerator can fit a full-size keg. It is made of spotless steel which is similar to stainless steel but it is easier to clean and you can't see the scratches of replacing the keg. The worktop is also scratch-resistant and removable drip tray. The tower dispenser comes in black and chrome, it has chrome guardrail and automatic defrost.
DImensions For The Tower
This is not just a keg cooler. There is a tower dispenser on the top. It has one tap and the hole for it on the top is 1.5 inches diameter and 15 inches from the front panel. Cutout dimensions for the kegs are 25.5 inches in length, 24.5 inches wide and 34.75 inches in height. It has a capacity of 5.4 cubic feet.
Fridge Specifications
The fridge that comes in this package is a perfect choice for an outdoor kitchen. If you like to throw barbeque gatherings, running into a kitchen is not a fun thing. With this, you have all that you need right beside you. It is a stainless steel fridge with a self-closing door. It has three storage shelves and keeps your food and beverages at the optimum temperature.
Features:
Package includes kegerator and a fridge
Kegerator fits a full-size keg
Made of spotless and stainless steel
Self-closing door in the fridge.
Best Cheap Outdoor Kegerator
Insignia Beverage Cooler Kegerator
Budget-friendly Kegerator
This is one of the cheapest kegerators you can get on the market, but that doesn't mean that it is not quality production. It is made of stainless steel and it provides enough space for different sizes of kegs. It also has additional shelves for more storage space and a reversible door. It doesn't come with the CO2 tank so you have to buy that separately.
Cooler Inside Kegerator
This kegerator can hold a 1/2 keg or 1/4 slim keg depending on your consumption. It is also provided with the two shelves made of wire for extra storage space. It also features an adjustable thermostat so you can keep the beverages cool at the temperature you like.
Specifications
The height of the kegerator is 33.7 inches and the width is 23.6 inches. The depth is 23.6 inches and it weighs 101.4 pounds. The maximum temperature is 45 degrees and it goes to a low temperature of 32 degrees F. It doesn't have a digital display, which is understandable for this price, but it comes with the pressure gauge.
Locking Wheels
This cooler kegerator is possible to build-in or put in a permanent place, but it does come with small wheels so you can make it portable. It comes in silver color with a removable drip tray and guardrail. The tower dispenser is black steel and it features one tap which is enough for the kegs that can fit inside.
Features:
Reversible door
Holds two types of kegs
Adjustable temperature
2 wire shelves
Includes locking wheels
Best Outdoor Bar With Kegerator
Beverage-Air Draft Beer Cooler
Commercial Grade Kegerator
This is a full bar that you can put in your back yard. It will give your outdoor kitchen a nice luxury effect. It is solidly built and with a nice black finish on the cabinet make it elegant. It is 79 inches wide and you can store in them 4 full-size kegs. Or if you like, you can give 4 different beverages at your party.
Advanced Cooling System
To keep 4 kegs fresh and cool it needs a powerful refrigerating system. This Beverage-Air outdoor kegerator has highly-efficient energy that preserves power where needed. It is eco-friendly and it can defrost automatically. To help preserve the coldness, the doors are enriched with extra strong magnetic gaskets so that cool air stays inside
Built To Last
Stainless steel door and sides make this kegerator solid and resistant. The unit is protected from all kinds of weather conditions. Inside of the coated with the protective layer from any outside impacts. The doors come with universal lock and mechanism that makes them shut on their own. It is a free-standing bar with two towers.
A Great Purchase For The Money
This is a little bit high-priced unit but if you are owning a business or you make a beer of your own at home this can be a good investment. Even if you are a person who has a lot of gatherings and parties at home this can be a good choice. It all depends on personal preferences and how much money are you willing to spend.
Big Countertop
This kegerator is actually a full bar. The 2 tower dispensers on the top have 2 taps each. They don't take up much space so you have enough room for glasses, mugs, tools, and a place to prepare and serve. It has removable drip trays and the rest of the surface is easy to clean with just a cloth.
Features:
Advanced cooling system
Features 4 taps in two towers
Resistant exterior and interior
A lot of space to work
Best Outdoor Keg Fridge
EdgeStar Kegerator and Keg Beer Cooler
2 in 1 Unit
The EdgeStar Kegerator is 48.5 inches tall and 20.1/10 inches wide. The height includes the tower on the top. The depth of the unit is 24.13/16 inches. It can fit standard 1/4 and 1/2 kegs, but it also has shelves so you can easily turn it into the fridge.
Free-standing Kegerator
This EdgeStar Outdoor Kegerator is made for free-stand use only. It comes with the casters that you have to assembly so you can easily move it around as you wish. It has a shelf in the back for the tank so it is not recommended to built ti in the cabinets and kitchen.
Temperatures
This is and Ultra-low temperature kegerator. It can reach temperature in the low 30s and it doesn't go up over 40 degrees F. It is a reliable unit for somebody who is just starting a brewery. It doesn't have a temperature display but you can manually adjust the temperature inside.
Design
It comes in black and stainless steel finish, which means that the countertop and sides are black but you can choose the style of the doors. It is also possible to choose between one tap tower or double-tap tower dispenser depending on your preferences. It is elegant and you can put wheels on it for easier mobility.
NSF-approved Lines
The air lines and beer lines are included in the package and they are NSF-approved which means that they are meant to last a long time.  Also, the high-quality components like Domestic "D" coupler, CO2 regulator, draft tower, faucet and gas line are included. The CO2 tank is aluminum but it comes empty.
Features:
Easy conversion from kegerator to the fridge
Free-standing unit
NSF-approved lines
Best Outdoor Built-in Kegerator
Marvel Outdoor Built-In Kegerator
Cooling Technology
This kegerator features Dynamic cooling technology which makes the fast cools and temperature stability. The temperature goes between 34 degrees and 46 degrees F. It is frost-free and it has precise controls to make adjustments for the desired temperature.
Temperature Display
The Marvel controls make sure that the unit is operating properly. The display of the temperature shows the temperature inside the unit and not the set-up like most of the kegerators. Instaled in the unit is an audio and visual alarm that signalized when the temperature is not as it supposed to be if the doors are left open.
Design Features
This outdoor kegerator comes in an elegant stainless steel finish. You can choose from left swing or right swing for door opening. It is corrosion-resistant and it has a sturdy handle. At the bottom is an adjustable flat toe grill and it has the capability to level legs up to 1 inch. The door is provided with the lock for extra security.
Serving Beer
The Lo-Boy coupla makes easy to swap, store and tap the kegs inside. The double-tap on the tower dispenser adds to the smooth draw and pouring of the beer. The tower is designed so that it prevents condensation and reduces foam. It leaves the surface clean so all you have to do is remove the drip tray and clean it.
Capacity
The Marvel Kegerator can hold kegs a half barrel, a quarter barrel or even 2 sixth barrels. If space is not occupied with the keg you can put provided shelves and make it into a fridge. With some smaller barrels, you can have both. The shelves are also made of stainless steel for durability and easy cleaning.
Features:
Advanced cooling technology
Installed alarm for temperature
Easy to blend in with other appliances
Double-tap tower dispenser
It can be converted into a fridge
Conclusion: Which Outdoor Kegerator Is The One For You?
If you are at the conclusion of this article that means that you are really interested in buying the best kegerator for you. There is a lot to consider and you don't want to make a mistake so I recommend the Bell Outdoor Kegerator & Fridge because you get both for a fair price or EdgeStar Kegerator which is a cheaper option but you get a great quality free-standing unit.
To find out what more there is on the market read my article about the best beer dispenser coolers. You may also find interesting the post about mini fridge kegerators. If you are looking for something specific there is a list of double-tap kegerators.