Best 5 Beer Tube On The Market In 2022 Reviewed By Expert
Are you looking for something to amaze your guests at the next party?
Then the beer tube is the right thing for you. It is light, portable, and it will make an effect when you put it on the table. There are different sizes and styles of beer tubes for sale on the market and that is why I bring you the list of the 5 best ones.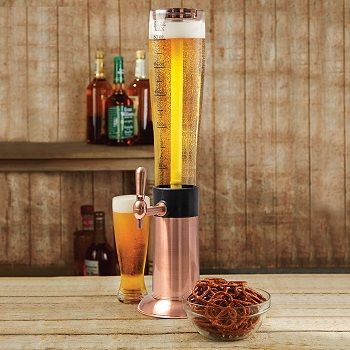 Useful Information About Beer Tubes
What Is A Beer Tube?
A beer tube, or as some call it – a giraffe, is a 100+ ounce self-serving beverage dispenser. It allows you and your guests to serve their own beverage right at the table. It saves time from going back and forth to the house and it is interesting to see on the table.
Tube Modularity
Every beer tube dispenser consists of 4 parts – The base, tube, tap, and lid. The base and the tube are the two parts that can be designed as you wish. There are many options out there. The important thing is that all 4 parts can be purchased separately if you need something changed. All taps are designed to fit all tubes and all tubes to fit all bases.
How Does Tube Beer Work?
Beer tube is like a giant glass. You have to take off the lid and put the tube directly under the tap. It is important to tilt the tube to avoid unnecessary foam – just like in the glass. If you are using the tube for the other beverages you need to just fill it as much as you want.
How To Keep The Beer Cold?
The beer tube is usually made of high-density 3mm co-polyester material. That alone can insulate the beverage to a certain level but if you want it to be cooler there are two options. You can get stainless steel or plastic tube that you fill with ice and insert it into the beer tube. The other option is to get a Chill Stick, which is a re-freezable stick that you place in the tube as needed.
Maintaining The Tube
The purpose of the tube is to be bigger than the standard pitcher. But nowadays you can get almost any size you want. The process of cleaning and maintaining them is the same no matter the size. You just take everything apart and clean it as you would your regular glassware at home.
Best 5 Beer Tube On The Market
Best Beer Tower Dispenser With Ice Tube
Refinery Beer Tower Drink Dispenser with Pro-Pour Tap
Unique Design
This is one of the best-looking beer tube dispensers on the market. It has a unique shape of the base and a round top that meets the base giving it a stylish look. It is made of plastic but with copper finish, the see-through plastic tube, and a black lid.
Pro-pour Bar Tap
With this beer tube, you can take your bartending skills to the next level. It features a pro-pour spigot. The design is an inspiration by the traditional beer faucets and it adds up to the elegant look of the tube. You have control and you can achieve a perfect pour because of the pull-down handle.
Easy To Handle
It is easy to detach the tower from the base and refill it as you need to. That adds up to the easy cleaning process and hassle-free experience. You can get the job done in minutes and enjoy your party without running back and forth for the cans and bottles.
Ice Tube
The best feature of this beer tube dispenser is that it has an ice tube that goes inside the beer dispenser. It is not a classic ice tube that you have to refill with the ice. It is rather a simpler solution, where you just freeze it and put it back in. It can keep your beer cool for hours.
Dimensions And Capacity
This beer tube can hold 2.75 quarts of beer. It is tall 25 inches which is a perfect size for a tabletop dispenser. To keep it stable on the table, it needs to have some weight. That weight is stored in the base of 3.6 pounds. It keeps it nice and stable either empty or full.
Features:
Pro-pour tap
A high storage capacity
An ice rod for cool drinks
Stylish in design
Easy to clean
Best 100 oz Beer Tube
Wyndham House Beverage Dispenser
Multipurpose Beer Tube
This is a beer tube that you can use for any kind of beverage. It can be used for craft beer, sangria, rum or some other non-alcoholic drink. It has a large capacity so it is perfect for house parties. The great thing is that the base is not wide, so it won't take up much space.
Capacity
This is a proper beer tube with a large capacity. Most of the beer tubes on the market can hold around 90 ounces of beverage. This on, hower holds full 100 ounces + a little bit more on the top. That is 3.7 qt or 7 pints. It is 33 1/2 inches tall with a heavy base for stability.
Eye-catching Piece
Whit the elegant see-through tube, black lid and black base with a detachable faucet, this is a piece of equipment that all our guest will have to stop and look. The body is made of ABS material and everything is removable for easy cleaning.
Portable
Although this is the largest beer tube on this list you can easily take it with you no matter where you go. You can disassemble the entire unit and take it with you. It weighs only 4 pounds so it won't be a problem to carry it around. Just keep in mind that you need to keep the dispenser out of the direct sun if you are using it outside.
Features:
118 ounces capacity total
Easy to clean
Elegant design
Portable and light
Best Mini Beer Tube
The BrewTender Tabletop Beer & Beverage Dispenser
Modern Mini Design 
This is an 80 ounces beer tube dispenser with a beautiful black base and practical tall faucets. It has built-in LED lights that illuminate the beverages for a really cool effect. Because of the clear lines and classic-shaped base, it gives out the impression of the expensive and modern beer tube.
Cooling Chamber
The great thing about this tube is that although is small it can hold and cool down the beer in a matter of minutes. That is all because of the ice tube that goes inside the beer tube. All you have to do is fill it up with ice and place it in. you can remove it without opening the lid for the beer because it stands above the top.
Dimensions
The BrewTender tabletop beer dispenser is 20 1/2 inches tall and only 7 inches wide. It doesn't take much space on the countertop and it is suitable for use in sports bars, pubs, taverns and of course, in the comfort of your home. If you have a family gathering coming up, this would be an ideal choice.
Build Materials
The clear tube is made of high-quality, strong and scratch-resistant ABS plastic. It is meant to hold up for a long time. The body is also made of plastic, but reinforced for stability. It will keep in balance either if it's filled up or empty. It is also suitable for indoor and outdoor use.
Features:
Modern design
It comes with the ice tube
Made of durable ABS plastic
Suitable for indoor and outdoor use
Best Commercial Beer Tube
JCSKY Beer Tower Dispenser
Commercial Use
This is a beer tube made from fugged PC and ABS. It is durable, non-toxic and impacts resistant. That alone makes it perfect for the bars, restaurants, cafeterias and other places. The base is designed to be stable, durable and safe. It is light to carry around and it is widely popular in the bars, cafeterias and it is suitable even for your home.
Special Feature
Whan, you do a little research on the beer tubes, you will see that only small differences make them apart. When you decide to buy such a thing as a beer tube you want it to be special. This one has that. It has installed LED light on the top of the ice tube so it glows in the dark. It is practical and attractive at any venue.
Capacity
This JCSKY Beer Tower Dispenser comes in two different sizes. You can get the small one that holds 1.5 l or the big one that can hold up to 3 l. Which one would you choose is up to your preferences. It is easy to use and no matter the size, you can detach the base from the tube for easy fill and cleaning.
Finish Design
Because this beer tube is designed for commercial use primarily, it is only suitable that it comes in various designs. Other than being able to choose the size of the tube, you can also choose the color of the base and the lid. The tube is transparent, but you can get the base in black, blue, yellow, purple and red color.
Features:
Different capacity
Multiple color design
Stable and durable
Best Beer Tube For Man Cave
Beer Tubes Football Base Beverage Tower Dispenser
Game Beer Tube
When choosing the right beer dispenser for your man cave it often comes to the sports design. It is a little bit unusual and that is what gives the charm to the room. Watching the game and pouring the beer from the dispenser with the same motive is unique and your attention to detail will impress your guests.
Capacity
Just because the base is different and a little bit bigger than usual, doesn't mean that the tube is smaller. This dispenser can hold 100 ounces of the best beverage you want which is more than enough for your busiest nights. All you have to do is unscrew the tube and fill it again and you are good to go.
Modern Design
This beer tube is something new on the market. It comes with a durable, BPA free tube that can be detached from the base. Base comes in the shape of the different balls of sports games or even different parts like helmets or bats. All you have to do is pick your favorite sport or a team and decorate your man cave with one more sports item.
Dimensions 
This beer tube is designed for tabletop usage. It has a stable base so you won't have a problem with it either is full or empty. It is 37  inches tall and it weighs around 9.7 pounds. It is easy to carry around and it doesn't take up much space no matter where you put it. It doesn't have an ice tube but the tube is reinforced with Tritan which is proven to keep the drinks cold. But you can always get a chill stick for extra coldness.
Features:
Modern design with sports details
Tabletop beer tube
Holds up 100 ounces
Easy to transport
Conclusion: What Beer Tube Are You Taking Home?
Beer tubes are portable, attractive and cheaper than kegerators but deliver the same effect to the party. There are so many options on the market but from the five on the list, I would recommend the best ones. First is Refinery Beer Tower Drink Dispenser with an attractive and elegant design and the second one is The BrewTender Tabletop Beer with the advanced ice chill tube for the beer.
If you want to learn more about beverage dispensers you can read the article about the best beer bottle refrigerators. In addition, there are articles and posts about wine and bar coolers and the best mini beer fridge with a glass door.