Best 5 Commercial Beer & Keg Fridge & Cooler For Bar Reviews
Looking for a new refrigerator for your business?
When it comes to the professional refrigerators you want only the best. The best bar beer coolers you can get are durable, with large storage area and wide temperature range. To save you the trouble of big research I made a review of the best ones on the market.
Guides For Buying A Commercial Beer Fridge
Type Of The Fridge
Commercial fridges are made to fit a lot of beverages inside and to cool them quickly. But they do come in different sizes and shapes. The most common one is the upright fridge. It is a freestanding unit with a lot of storage space. The nest most common one is the under counter bar beer fridge and counter fridges.
Size And Capacity
You need the fridge that will fit into your space, bar, restaurant, home. If it is too small you risk the lack of beverage on a busy night and if it is too big it can take too much space and increase your electricity bill. Measure carefully and choose the best option for your spaces and your needs.
Efficiency
One of the most important things you need to look for in the refrigerator is the efficiency. The more efficient the fridge is the less is your monthly bill and upkeep of the fridge. Also if the door is properly insulated the energy will be preserved where it needs to be. It is helpful to have a self-closing door so you can work without worries.
Defrosting Feature
Defrost is an important feature in the commercial bar beer fridges. Overtime the fridge can accumulate some ice inside. That affects the performance of the fridge and you need to clean it. There are fridges with automatic defrost function, manual defrost and off-cycle. It is important to defrost and because of the hygiene inside the fridge.
Security And Warranty
If you decide to go with the commercial beer fridge you will see that most of them come with the lock. It is additional security for your collection inside. You should also keep in mind to check for the warranty of the product. They tend to be more expensive, and if you own a business you wouldn't want to change the fridge every year.
Best 5 Commercial Beer & Keg Fridge & Cooler
Best Small Commercial Beer Cooler
Kalamera Beverage Cooler
Storage
If you don't have much space and you still want a quality refrigerator for your beverages, Kalamera is the right choice. It has four removable shelves that you can adjust to your needs and it can hold up to 104 standard-sized cans. They are chrome shelves that can last you a long time.
Dimensions
This is a small bar beer cooler that is 33.9 inches high, 14.9 inches wide and 22.4 inches deep. It weighs 69.5 pounds and it runs on 90 watts power. It has a small footprint so you can easily build it into the cabinetry or you can leave it as a freestanding unit. If you want you can attach casters at the bottom for easier mobility.
Superior Compressor
The advanced technology in the compressor motor department makes sure that you get the coldest drinks in record time. It keeps the temperature between 32 degrees and 41 degrees Fahrenheit. That means that you can have the drinks at the light-freezing point. The fans inside make sure that the air is evenly flowing through the cabinet.
Stainless Steel Door And Cabinet
To make sure that coldness stays inside, the single door beer fridge is made of stainless steel and the door is also of stainless steel but reinforced with insulation. Keeping the coldness inside and the temperature stable are the reasons why there is no storage room in the door. Because of that, you get the full storage capacity of the cabinet.
Warranty
This is a low-noise fridge ideal for offices, home and of course bars. For guaranteed quality, this product comes with a year warranty that includes repairs, replacement and returns services. This is the factor that is extremely important for the commercial use of the fridge.
Features:
Great storage capacity
Compressor-based cooling
Stainless steel cabinet and door
Minimal disturbance
1-year warranty
Best Under Bar Beer Cooler
Procool Refrigeration Back Bar Beverage Cooler
Dimensions And Size
This is a great bar beer fridge for under counter. It is standard 36 inches tall, 36 inches wide and 21 inches deep. It offers great worktop if you decide to put it next to the countertops, but it is better to protect it. It has a front ventilation system.
Cooling System
This beverage center runs on R600a refrigerant that is environmentally friendly. Because of that new technology, this is a more energy-efficient fridge. Everything on it is made so that coldness is properly preserved inside and that no energy goes to waste. It has an internal fan to help with the constant airflow.
Digital Temperature Display
For user-friendly experience, the digital controller is installed for monitoring and adjusting the temperature. The display is located on the bottom of the 2-door beer fridge and you don't have to open the door to change the settings. The temperature can go down to 32 degrees Fahrenheit and it can go high to 50 degrees Fahrenheit. It can cool down beverages quickly and efficiently.
Capacity
This is a double door beer fridge that has large storage. There are 4 removable shelves inside the fridge that you can adjust them to your needs. For an easier finding of the beverages inside the LED light is installed. It is a practical and large unit that can store everything you need for the next party.
Features:
Large Storage Capacity
Installed LED light
Digital temperature display
Best Commerical Outdoor Beer Fridge
KingsBottle Beverage Fridge
Modern Technologies
This is a modern bar beer cooler made of stainless steel. It is a high-quality fridge suitable for outdoor use because of the reinforced cabinet and door. In addition, the Embraco compressor makes low noise and it is vibration-free. It is a perfect option for outdoor kitchens no matter is it professional or private home-based.
Cooling System
This is a modern state-of-art fridge with the air-cooling system that circulates air inside the cabinet equally. Already mentioned the Embraco compressor keeps the beverages cool and the temperature constant the entire time. The temperature goes from 34 degrees to 46 degrees Fahrenheit. It is a high-quality and quiet-running cooling system that will fulfill all your needs.
Size Of The Product
This is a cabinet with double doors. It is 33.9 inches high, 35.4 inches wide and 21.5 inches deep. It has a full capacity of 7.42 cubic feet and it weighs 180.7 pounds. It is the unit suitable for under counter and built-in installation. It can fit in nicely in any cabinetry because of the timeless silver stainless steel finish.
Premium Components
This is a bar beer cooler that has additional items and features that make sure you get the best possible cooler in the market. With an automatic defrosting function and alarm system, you have everything you need in this unit for the perfectly efficient fridge. Beverages are cooled at the optimum level and ready for any gathering you might have.
Features:
Stainless steel cabinet and door
Automatic defrosting
Easy-to-clean chrome shelves
Front ventilation system
Vibration-free
Best Commercial Glass Door Beer Fridge
Restaurant Supplies Direct Commercial 3 Door Beer Fridge 
Product Measurements
This is the three-door beer fridge that can satisfy any needs that you have. The hight of this unit is 35 3/4 inches, it is 72 3/4 inches wide and 24 1/2 inches deep. The narrow depth is ideal for bars with limited spaces and any other kitchens that you want to implement it in.
Design
The RSD beer fridge is stainless steel unit that comes in black finish design of the cabinet and the door frame. The glass door is reinforced and insulated for quality performance. Inside of the cabinet is in classic stainless steel silver color and the countertop is also made of stainless steel so if you can use it as a worktop. For easier mobility, you can add eight casters at the bottom.
Storage Room
This is a big unit that comes with 6 plastic-coated wire shelves that are removable and adjustable. This keg and beverage cooler can hold up to 3 kegs, more than 1100 standard-sized cans or around 600 bottles. It is a total capacity of 19.6 cubic feet. To find easily what you are looking for there is an LED light installed inside.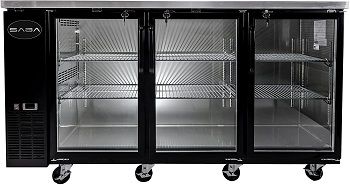 Cooling Technology
This is an advanced front-mount 1/3 hp compressor that runs on R134A refrigerant. It is foamed in place with high-density polyurethane insulation to maintain the interior temperature. It is ETL Listed and it needs a 115V connection to work. The temperature inside can easily be adjusted from low 33 degrees to high 41 degrees Fahrenheit.
Features:
3-glass doors
Narrow depth
Energy-efficient compressor
Stainless steel cabinet
Best Commercial Beer Fridge With Glass Doors
NutriChef Beverage Refrigerator 
Capacity
This unit offers plenty of space to store beverages. It can fit and chill up to 77 standard-sized cans. It has 3 wire shelves and guard rail at the bottom for maximum use of the space. All the shelves can be removed and adjustable. It is a perfect option if you need additional storage in your bar or you a professional option for your man cave.
Digital Touch Panel
This is an upgraded version and now it features an automatic defrost function. Defrosting is important so that the beverages are cooled properly and the auto version makes it easy to clean. The LED lights are installed inside and the LED digital thermostat is at the top of the door for the easy adjustment and monitor of the temperature.
Dimensions Of The Fridge
This is a standard-sized fridge with a single door and a single cooling zone. The hight is 30.1 inches, it is wide 19.7 inches and it is 18.3 inches deep. It weighs 47 pounds. It is a perfect size for any cabinetry if you want to build it in or if you want to leave it freestanding it won't take much space.
Temperature Range
With the adjustable temperature on the digital thermostat, it is easy to make fine chilling cans and bottles of beverages. The low temperature is 41 degrees and it can go high to 64 degrees Fahrenheit. When you adjust the temperature, good insulation of the cabinet and glass door will hold the temperature constant.
Features:
Great storage area
Removable and adjustable shelves
Clear front door
Elegant design for man cave
LCD touch panel
Conclusion: Which Commerical Beer Fridge Suits Your Needs?
When it comes to the commercial units you want them to be quality made and durable. That is why you need to think carefully about which one is the best for you. The best one on this list must be KingsBottle Beverage Fridge because of the reinforced build materials. The runner up is definitely NutriChef Beverage Refrigerator because it is practical and energy-efficient.
To learn more about beer refrigerators of any kind and for any use read the article about the best beer refrigerators. You can also take a look at the review of the best beer and wine mini fridge and the best mini beer fridge with a glass door.