Best 5 Glass Door Beer Fridge (Small & Big) In 2022 Reviews
Are you looking for a cool new thing for your house?
The glass door beer fridge might be just it. It is a good thing to know what you have inside without opening it. That is why, in this article, you can read all about the glass door beer fridges and find out which are the best on the market.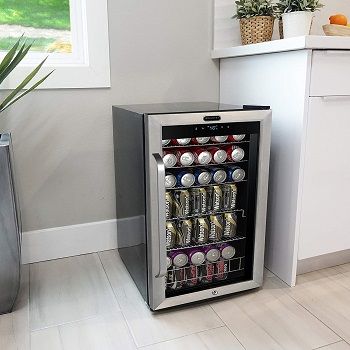 Benefits Of Having A Glass Beer Fridge
A Sense Of Openness
This is a purely visual advantage. It is known that the glass, windows, and reflections make space look bigger. This is a great thing if you are buying a larger beer fridge. If you are in the market for the small one, it maybe won't make such a difference in the room but it sure will help.
Extra Display Area
Glass doors are an additional area where you display your goods. That makes the perfect sense if you are the type of person who likes to collect and show off your beer collection. Sure, you will drink it and put the empty bottle on the shelf, but nothing beats the first glance at the cold rare beer that is just waiting for you.
Additional Light
The LED light that is installed in the fridges can be really helpful in brightening up the dark corner of your man cave or garage. If you keep it in the kitchen, you won't have to turn on the light to find what you are looking for. Besides, you can choose different light colors and make it playful and fun.
Shopping Made Easy
Every time you pass by the fridge you will see what is missing what you need to buy. There is only one can of your favorite beer on the shelf? You won't forget to buy it next time you are in the shop. The thing is, that the glass door beer fridge is always "open" for you, so you know what to get in a matter of seconds.
Multiple Design Options
You would think that there is only one option when it comes to glass doors. Well, you are wrong. You can get the fridge in different colors, the glass can be the size and the color you want and even the LED light inside can be of the color you like the most. The see-through glass gives it openness and black glass gives it mistery. It is all up to your preferences.
Best 5 Glass Door Beer Fridgef
Best Mini Beer Fridge With Glass Door
EdgeStar Beverage Cooler
Dimensions And Capacity
This mini beer fridge is simply designed with a black cabinet finish and stainless steel trimmed door. It can store up to 62 standard cans. It is small bat high capacity storage use in that minimal space. It is only 20 inches in height, 17 inches wide and 18.5 inches deep. It weighs 40 pounds.
Cooling Technology
It has a compressor-based cooling system that makes sure that the temperature is at the optimum level and it offers quick cooling time. The temperature can range from about 30 degrees to 50 degrees Fahrenheit. It can be adjusted using the thermostat on the back of the fridge. For optimal cooling, it is recommended to rotate the contents.
Design
This mini beer fridge comes in elegant black finish with the stainless steel door frame. It has a rear feature for the small fridges. It offers a reversible door so you can install them to open on the right or the left side. It is a freestanding unit so you can install it at any location you wish. Also, it offers an adjustable shelf so you can remove it and change the level depending on the items you want to store.
Versatile Usage
Because it is a small fridge and it offers so many adjustable features it is a great option to buy for anyone. You can use it in the dorm room, man cave, garage and even take it outside in the back yard for a barbeque. It is important to remember that this is not an outdoor unit, so remember to put it in a shaded place and take it inside when the party is over.
Features:
Manual temperature control
Compressor based cooling
Reversible door
Freestanding application
Manual defrost
Best Under Counter Glass Door Fridge
Kalamera Beer and Wine Cooler
Offer Your Guests VIP Treatment
This is the best unit that you can install in your kitchen. It has a lot of space for the beer and a separate zone for wine or bottles of different beverages. You can have multiple choices of the beer and other beverages to serve and the coolness won't let you down.
Automatic Restore Of Temperature
This Kalamera beer fridge features a smart Temperature Memory. It is a great feature because if the power failure happens it will restore the temperature settings as they were set before the interruption. It keeps your beer from spoiling and it saves the time of need to adjust all the settings again.
Size Of The Fridge
It is 106.9 pounds heavy beer fridge. It is understandable because it offers more space inside. It is 33.9 inches tall, 23.4 inches wide and it goes 22.4 inches in depth. There are 12 shelves inside that you can move and adjust as you need them. It has a capacity of storing 20 wine bottles and 78 cans of beer.
Dual Zones
This fridge is designed for wine and beer but you can personalize it as you want. That is why there are two zones and two thermometers you can adjust ti different temperatures. The temperature in the left area goes from 40 degrees to 66 degrees F, and in the right area is between 38 degrees and 55 degrees F.
Additional Features
There is an LED light installed inside so you can easily find what you are looking for. It has a french door made of stainless steel with glass inserts and it comes with the security lock. It works on a compressor-based cooling system and the front ventilation makes it perfect for built-in.
Features:
Compressor cooling
Dual temperature zone
Interior light
Security lock
Best Glass Door Beer Fridge For Man Cave
hOmeLabs Beverage Refrigerator and Cooler
Modern Cooler
What you need in a man cave is a modern beer fridge to give the room a sense of sophistication. The hOmeLabs fridge is the perfect choice for that. It comes in the black finish of the cabinet and glass door with the stainless steel frame. This is a freestanding fridge with the left hinge door. The LED light is installed inside for an easy nighttime selection of your favorite beer.
Large Capacity
The fridge has 3.2 cubic feet capacity which means that it can store up to 120 standard beer cans or even a few big bottles. It has 3 adjustable and removable chrome shelves so you can customize the inside depending on your beverage choices. It is 33.3 inches high, 18.9 inches wide and 17.30 inches deep.
Temperature Controls
This is a single zone beer fridge but it offers a wide range of the temperature set-up. It features easy touch temperature control and it lowers it down to 34 degrees Fahrenheit. It has a large display for quick and easy monitoring and setting up the temperature. It also has a memory function that restores the settings if it is unplugged or power failure happens.
Cooling System
This beer refrigerator has a heavy-duty vertical chiller. It is energy efficient because of the advanced cooling technology. It features a quiet compressor that works together with the fan. Those two things combined provide rapid chilling and they keep the temperature steady with constant air circulation.
Features:
Stores up to 120 standard cans
Advanced temperature controls
Powerful cooling system
Auto defrost
Memory function
Best Glass Door Fridge With The Lock
Whynter BR-1211DS Beverage Refrigerator
Design Description
This is an elegant and freestanding unit that can hold up to 121 standard cans. The cabinet comes in standard black finish cabinet and it has stainless steel-framed doors with seethrough glass. The glass offers UV protection and you can easily check the content of the fridge. In the interior, there is installed LED light that can be on with just the flip of the switch.
Safety Lock
When you are buying a beer fridge it is important to look for the safety features. If you are collecting beer or you wan to keep it out of the reach for children your fridge needs to have a safety lock. This unit comes with the lock at the bottom of the door and you get two keys with it.
Powerful Cooling
To keep your beverages cool and fresh you want to have a powerful cooling system with a wide range of temperatures. This beer refrigerator can cool down the drinks to 34 degrees and up to 43 degrees Fahrenheit. It is efficient because of the internal fan that distributes air evenly through the cabinet.
Adjustable Shelves
Included in this refrigerators are 4 chrome shelves. They can be pulled out completely if you want to rearrange them and adjust them to your needs. In addition, there is 1 shelf that can be half-slide out for easier organizing of the beverages and 1 wire gate to keep the cans from falling out.
Technical Specifications
This is a great secure beer fridge with a height of 33 inches. It is wide 19 inches and in the depth goes 18.25 inches. If you add the handle it is 20 inches deep. It weighs 61 pounds and it consumes 85 W. Another thing that adds to quality is the fact that is ETL listed.
Features:
Large capacity of up to 121 cans
Freestanding installation
Security lock at the bottom
Best Commercial Glass Door Beer Fridge
KingsBottle Beverage Cooler
Compact Yes Spacious Unit
This is the unit that offers as much as space possible in the compact dimensions of just 33.9 inches in height, 52.6 inches in width and 21.5 inches in depth. It has an impressive capacity of 315 l so you can store inside up to 260 standard cans and bottles.
Exterior And Interior Design
The KingBottles beverage cooler is made of heat-resistant materials. The chrome alloy and gas-charged glass with the stainless steel door frame offer great protection for drinks. It is insolated and reinforced inside and outside. It has 6 shelves that can be adjusted. It comes in silver color with elegant high-quality handles.
Energy-efficient Fridge
For cooling the drinks the KingBotlles installed the Italian CAREL temperature controller. It has a digital display at the bottom where you can easily set the needed temperature and monitor what is happening inside. With the combination of the EMBRACO compressor and DC-fans, the power consumption is reduced to a minimum.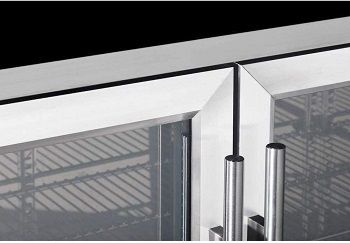 Quiet Compressor
With already mentioned EMBRACO compressor that is efficient. But there is another side to it and that is noise. It is extremely quiet and it produces sound less than 48 dB. That feature makes it a perfect choice for any set-up and room you are wanting to put it in.
Multiple Functions
This beer refrigerator is designed for professional users. It is suitable for bars, restaurants, and even a professional set-up at your home. It has three doors for a quality organization, but you can choose other options with one or two doors. The performances are the same, but the storage room is smaller.
Conclusion: Choose The Right Glass Door Fridge For Your Needs
The glass door beer fridges are pleasing to the eye and they keep up with the great performance compared to stainless steel ones. Which one is the right one for your space is up to your preferences. The two best ones on this list are Kalamera Beer and Wine Cooler because of the multiple size bottles and cans that you can fit inside and KingsBottle Beverage Cooler because of its security system.
Which one will you choose is up to you, but if you want to learn more read the article about new beer refrigerators. Also, check out my post about wine and beer coolers, or take a look at the article about small beer refrigerators.