Best 5 Mini & Small Beer Kegerator Dispenser In 2022 Reviews
Do you want a cool draft beer in the house but you don't have much space?
Everything you have been looking for is finally here. The mini beer kegerator is a perfect choice. No stack of the best beer can replace a cold draft one. So take a look at this article and find out the benefits of a mini kegerator and what are the best ones on the market.
Why Buy A Mini Kegerator?
Budget-saver
The big and regular-size kegerators can be really expensive. With all the materials and additions they sell for the prices up to $2000. Mini-fridge kegerators are a great option for those who still want the luxury of the draft beer at home but are not prepared to spend much money. Also, they are smaller, so they take just a small space on the counter.
Space-saver
There is a certain satisfaction when you fill your fridge with beer bottles and cans before a big game. But in the end, you are left with no space in the fridge and you have a lot of waste. The mini kegerator fixes all of that. It can fit on any countertop and you dispense your beer directly from the keg.
Keeps Beer Fresh
When you buy bottles or cans of beer you have to finish them in a short time so that they don't lose the freshness. The kegerator keeps your beer carbonated and you can have a cool draft beer for quite some time. Some kegerators can keep the beer cool for 30+ days.
Stylish Kegerator
The kegerators come in different and attractive designs. You can choose from many colors and different patterns. It is a decoration for your house and a practical item that brings your gatherings to the next level. The mini kegerators come in the capacity of 5l (1.3 gallons) or 10l (around 2.6 gallons).
Mini Kegerators Specifications
The mini-fridge kegerator has a regulation system that monitors the temperature and keeps the beverage cool as you need it to be. The dispenser uses CO2 or nitrogen for serving. The beer flows smoothly and you can fill your glass in a few seconds. They are portable and light so you can take it with you even on the camping trip.
Best 5 Mini & Small Beer Kegerator Dispenser
Best Mini Draft Beer Dispenser
KRUPS and HEINEKEN Keg
Cooling System
This elegant mini keg dispenser keeps the ideal temperature for the beer at around 37.4 degrees F. It has a Peltier cooling system that is ultra-quiet and efficient. It provides consistent cooling of the keg. It can keep the beer fresh for 30 days after first tapping. It has also an LED light indicator for the temperature.
Dimensions Of The Kegerator
This is the best mini fridge kegerator that weighs 14.3 pounds. It is 21 inches tall, 18 inches in depth and only 12 inches wide. It can fit a keg of about 17.91 cubic feet. That means it can fit the keg of 5l. It comes in the classic black color.
Krups And Heineken mini keg dispenser
Krups mini kegerator is a company that manufactures versatile small, kitchen and outdoor appliances. They made a collaboration with Heineken to make the best mini fridge for kegs. This small kegerator is compatible with the Heineken DraughtKeg system. It supports the Heineken, Heineken Premium Light and Newcastle Brown Ale.
Additional Items
This is an easy to operate kegerator. You just have to run the plastic tube to the tap and that is it. In addition to that, you also get the large removable drip tray for easy cleaning and 5 extra draught tubes. It has an authentic tap and detachable draw spout.
Innovative Tap Release
This Heineken DraughtKeg Unit is manufactured with care. It is made so that CO2 is released every time when you open the tap. That is what keeps the beer fresh and crisp. It allows the beer to stay good for up to 30 days. It also helps to produce the Heineken signature mark – head of foam "bite".
Features:
keeps the temperature steady at 37.4 F
It fits 5l keg
it is ultra-quiet
LED temperature indicators
less power consumption
Best Countertop Mini Keg Beer Dispenser
Sunpentown Mini Kegerator & Dispenser
Sunpentows Versatile Role 
This is a commercial unit. The manufacturer made sure that this is the most practical small keg system, so now you can find it in the restaurants, hotels, and resorts. They work with the customer and for the customer so that you get everything you want in this mini keg machine.
Entertainment
The SPT mini kegerator and dispenser are beautifully designed so it will work out with any style of interior you have. It cools down the beer in 19 to 21 hours and it keeps it and temperature from 36 to 39 degrees F. It is perfect for home entertainment and family gatherings.
Accepts Standard Kegs
The Kegerator is made with a CO2 cartridge pressure system. It keeps beer fresh and cooled up to 30 days. It can accept the standard kegs of 5 liters and Heineken mini-kegs. The Heineken kegs don't require CO2 cartridge. It weighs 13.89 pounds and it works with small power of 65 watts.
Package Items
Other than the kegerator, you will get items for easy set-up and ease of use. In the package, there are mini kegerator CO2 cartridge, 6 connector seals, 2 of the Heineken connectors, beer tube, keg seal and cleaning bottle. Also, the tray that comes with it is removable for easy cleaning.
Quality And Budget-Friendly
This is a fairly cheap kegerator compared to the other you can find on the market. And you get a lot for the price. It is made from quality stainless steel and made to last. It also has an LED display of the temperature and you can adjust it to your likening.
Features:
accepts 5-liter kegs
features LED temperature display
CO2 pressure control
made of stainless steel
Best Mini Keg Dispenser With A Regulator
Mini Keg with Mini Keg Regulator and Beer Dispenser
Convenient For Any Beverage You Like
This mini keg is suitable for all kinds of beverages, from beer to juices, coffee or even cocktails. Some even use it for fermenting, kegging, storing and dispensing. It is easy to fill it with your favorite drink and you can choose the capacity from 64 ounces or 128 ounces.
Perfect Size
This is a really mini keg that can even fit in your fridge with the tap attached to it. It is about 8 inches tall and 5.25 inches in diameter, but that is without the tap and with the stainless steel cap on. It is lightweight and portable so you can take it with you no matter where are you going.
Build Materials
The container is made of stainless steel as is the cap that goes on it. It has a twist. tube spear and copper faucet. The keg is carbonated inside that helps to eliminate foam and it makes beverage to stay cooler for a long time. You just have to make sure that it is clean.
User-friendly Set-up
To start using the keg all you have to do is remove the cap and screw the tap on the top. The foam blocker is installed in the tab. Add to it a 16-gram mini keg CO2 tap cartridge and turn the flow regulator to the level of PSI you want. Then, you just pull the tap and the beer will flow and fill your glass in a few seconds. After usage, turn the regulator off.
Package Content 
This is a full package. Included are a spare body, crossbar, twist tube, nut, faucet, regulator and regulator base, beer hose and many more. Keep in mind that CO2 cartridges and CO2 capsules are not included because every beverage has different specifications for this. It is also not recommended to use this keg with nitrogen.
Features:
variety of CO2 settings
simple design
comes with the regulator
easy to set-up
made of stainless steel
Best Small Keg Cooler
Super Cooler For Beer Keg
No More Warm Draft
If you are not the type for the kegerators and fancy dispenser, Super Cooler is the right thing for you. It is a polyethylene construction that keeps your keg cool up to 3 days with only 3 bags of ice. You can easily put inside a full-size keg, a couple of mini kegs or even up to 168 cans.
Built To Last
The outside material is made of polyethylene and from the inside is isolated so that keeps your beer frosty. It keeps minimal ice melt and zero condensation. The construction has molded handles and that makes it practical. There is a center opening on the lid if you want to attack the dispenser.
Dimensions
This Super Cooler is about 30 inches tall and 25.1/4 in diameter. It weighs 30 pounds. Like mentioned before it can fit 1/4 or 1/2 keg and it has a capacity of over 150 cans. It comes in the blue, red, grey, green or black model. It easily blends in and it is perfect for picnics, barbeques, and camping trips.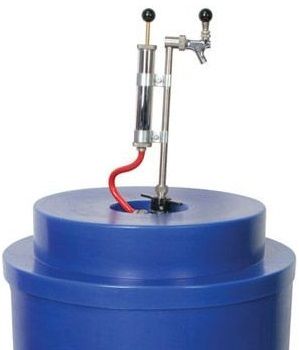 Mini Keg Fridge
This is really the fridge for the outdoor, and you don't need electricity to use it. This is not strictly a keg cooler. Because of its size and capability to keep cool for up to 3 days, it is great for camping trips. You can store all kinds of beverages and food.
Features:
made of durable polyethylene
available in multiple colors
keeps your keg cool for days
Best Mini Fridge Keg Conversion Kit
Kegco Conversion Kit
Make Your Fridge A Kegerator
If you have and old mini fridge standing around, the kegerator is maybe the right thing to save it. With this kit, you get everything you need to start and finish this DIY project. By the next barbeque or a party, you can have your own mini kegerator and have a decoration for the backyard.
Dual Gauge Regulator
The dual regulator features a T-style adjustment valve and that makes it easy to adjust the pressure in the keg. It has one gauge that regulates the CO2 pressure in the keg. The other gauge on the side indicates the remaining volume of CO2 gas. The valve is located on the body.
Drip Tray
Included in the kit is necessary a drip tray. It is made of stainless steel with a brushed finish. It is quick and easy to attach with only two screws in the backsplash. You can remove the grill for easy cleaning. There is no drain in this drip tray so you have to empty it manually.
Faucet And Tank
The faucet wrench is made of durable material with a vinyl-coated handle. The handle comes in red or blue color and it provides an easy grip. It is made so you can quickly and easily attach it without scratching. The package includes the CO2 tank of 5 pounds. It is made of aluminum so it is light but rust and corrosion protected.
Features:
features dual gauge regulator
nickel-plated and stainless steel coupler
aluminum tank
faucet and tank included in the kit
Conclusion: Is The Mini Kegerator For You?
The small kegerators are a practical choice. If you want your kegerator to be portable and multipurpose than this is the right thing for you. You can pick the KRUPS And Heineken Draught Keg for a more sophisticated look on your table, or something for outdoor and travel like Super Cooler.
If you are looking for more information about kegerators take a look at my article about the best kegerator for sale. There is also a review of outdoor kitchen kegerators or if you want to blend it read about under counter kegerators.