Best 5 Growler Kegerators You Can Get In 2022 Reviews & Tips
Once you become a beer expert yourself, you will constantly be on the lookout for fun gadgets to up your beer game.
Growler kegerators are one of those devices that take your beer experience to a new level. 
With the numerous benefits that the growlers have, choosing the right one can be quite a challenge. We've prepared this ultimate top 5 review to make sure you explore all the venue
Growlers Kegerators- What's The Hype About?
Taking Place Of Ordinary Kegerators
Everyone and their uncle know that the beer tastes best when it comes straight from the tap. If you possess a kegerator, you're probably already living the dream of having a fresh brew at home. But every now and then you might want to have something smaller to pack it up and take with you. That where growlers come in handy.
Not A Single Drop Is Wasted
You know that dilemma when your keg is almost empty and you don't know what to do with the rest of the beer? And your friends are already impatient to get more of that great craft beer of yours. Solve the problem by transferring the remaining beer into a growler so literally not a drop gets lost.
Take Your Beer On A Ride 
No matter if your growler kegerator is made of glass or stainless steel, the main reason why you should buy one is effortless portability. Imagine you'd have to drag a whole full- size keg to a BBQ party you got invited to. There's no need to torture yourself. Just get a filled growler and get going.
Scrub, Scrub And Scrub Some More
Mold and bacteria are something you want to avoid at any cost. Every time you clear out a growler wash it in hot water. A special kegerator detergent can be helpful to disinfect the dispenser too. For scrubbing, don't use brushes that are too harsh so you don't damage the interior.
Get Them For Around 100$
Depending on the manufacturer, most growlers come at a lower price cheaper than big kegerators. Brands usually offer a wide range of colors and materials such as plastic, ceramic, glass or stainless steel. Amazon is a great place for you to explore if you when it comes to discounts.
The Top 5 Growler Kegerators
The Best Stainless Steel Growler Kegerator
BACOENG 128 Ounce Pressurized Keg Growler
Say Goodbye To Bottles And Cans
The BACOENG growler comes with a 128 oz or 3,6 liters capacity. That's almost more than 10 standard-sized beer bottles. No more huge ice chest coolers that only hold up for a couple of hours. It's easier to just fill the mini kegerator with your favorite beer or beverage and hit the beach.
Durability Above All
If you're a fan of durability, this growler beer dispenser has a lot to offer. Made from 304 stainless steel, it's one of the best options on the market when it comes to insulation. The BACOENG kegerator strong built is a barrier between your cold brew and the air outside.
Praise The Pressure
Powered by an improved dual-stage pressure regulator, the beer travels safely through the stainless steel keg before it gets to your glass in the form of a perfect pour. The tap system features a threaded 16-gram CO2 cartridge which you need to buy separately. 
Shines At Any Party
The dispensing accessories like the chrome faucet can be removed from the keg when not needed. The growler itself weighs 5 pounds so carrying it around is an easy task. It chills your beer no matter where you decide to go. Partying, camping, picnicking…It's going to be the star of every beer-related gathering.
Government Warning & Manual Included
Even though the setup and dispensing beer are not complicated, the package goes together with a hand manual and a printed government warning about alcoholic beverages. The warning can be put on the growler depending on the laws regarding food and beverage in each of the states.
Features:
128 ounces capacity
Pressure regulator for adequate pour results
Stainless steel built
The Best Countertop Growler Kegerator
Nostalgia CBD5 Homecraft Kegerator On Tap Beer Growler
Growler/Fridge That Fits Your Kitchen Counter
Growler kegerators are in most cases compact dispensers for transporting beer without an installed cooling system. With the Nostalgia home beer growler system, you get double pleasure- a growler and a refrigerator in one. That's why the golden finish Homecraft is a few pounds heavier than ordinary portable growlers. Plus, it's most suitable for indoor use in a kitchen, office or home bar.
Dispensing System For 5- Liters Kegs
You can put a standard pressurized or gravity mini beer keg into the Nostalgia CBD5 but the keg's capacity needs to be up 5 liters. With the product, you get a reusable 5-liters bladder growler which you fill up on your own. It's see-through and made of plastic. However, if you prefer buying tap-ready kegs like Heineken, simply connect them to the dispensing system.
Comes With A Quiet Refrigerator 
As mentioned earlier, Nostalgia Homecraft on Tap is also a beer fridge. The silent thermoelectric cooler doesn't need a compressor to keep your beer cold. The user-friendly LED display lets you set the right temperature level with the lowest being 36 degrees Fahrenheit. 
More Gas, More Foam
Featuring 3 standard non-threaded CO2 cartridges, Nostalgia CDB5 Homecraft kegerator on tap system keeps the beer fresh for 4 weeks inside the growler. It also supports NO2 cartridges. 
The pressure can be adjusted depending on your preferences. If more head foam is your way to go, use the pressure regulator to add more CO2. 
Important To Keep Clean
Rinsing the Nostalgia CDB5 Homecraft kegerator is no trouble at all. The cleaning kit goes together with the package. You get a small squeeze bottle which helps you clean the beer lines. Make sure to properly wash the plastic growler after every use. Pay close attention to the drip tray as well.
Features:
Comes with a reusable bladder
Has it's own fridge system
Most appropriate for indoor use
Cleaning kit included
The Best Growler Kegerator For Man Cave
NutriChef Pressurized Growler Tap System
Every Beer Lover Needs One
With this model, you definitely know what the growler kegerator is all about. The NutriChef Growler is the newest trendy accessory that should have its place in your man cave. The attractive stainless steel glow stands for durability. It is simply a perfect way to enjoy your favorite craft beer with all your friends.  
Powerful Interior & Exterior
About 20 inches high, the NutriChef pressurized growler tap system is easy to carry around almost anywhere. As the construction is entirely made of SS 304 stainless steel, the beer will stay cold even hours after you remove it from the fridge. Also, if you drop it on the floor, don't worry because the material is solid enough to prevent breaking.
Get Your 128 oz Of Draft Beer
The growler kegerator fits 128 oz of beer. Whether you fill it with beer at home or at your local brewery, a growler dispenser should never be filled all the way to the top. Instead, leave some room for the gas when you get to the tapping stage. NutriChef growler uses threaded CO2 cartridges but those don't come with the product.
Adjust The Amount Of CO2 Easily
The beer carbonation is at the highest level with this growler kegerator. The gas gauge regulates the amount of pressure inside the mini kegerator. The amount of gas can be adjusted with the help of a control knob. The pressure system is so good it can keep your beer bubbly for a period of two months. 
Removable Top Handle
The stainless steel single beer faucet and the gas regulator are both featured in the package, except for the disposable gas cartridges. The tap handle can be removed when you're not pouring beer to make the NutriChef pressurized growler system lighter to carry. The metal lid on top protects the beer from spilling.
Features:
Man cave must-have
Adjustable pressure controller
Stainless steel built
Beer stays fresh up to 2 months
The Best Mini Growler Kegerator
GrowlerWerks uKeg Carbonated Growler
Small Kegerator With Golden Decor
You'll fall in love with this attractive small kegerator the moment you spot it. Being 11 inches tall It's the right size to fit your regular kitchen refrigerator before you take it to a camping trip or a backyard party. The golden details such as the carrying handle give it a vintage-looking vibe. 
Choose The Best Level Of Gas
The cap on top of the keg is responsible to make sure your beer stays carbonated all the time. By turning it around you can set the level of pressure that can go from zero to 15 psi. The growler kegerator utilizes CO2 cartridges. Plus, the sight glass lets you know how much of beverage is still inside.
Polished Design From Powerful Material
This uKeg model presented here comes in a polished stainless steel finish with a golden carrying handle and golden tap faucet. If you want more variety, the growler kegerator from GrowlerWerks is also available in Black Chrome and Copper finish. Despite your color choice, every uKeg is produced from heavy-duty stainless steel that keeps your craft insulated from the oxygen outside.
Making Tapping More Fun
Overall 64 oz of beverage goes into the mini growler. Whether it's fine homemade craft beer or a branded draft, every time you use it will be a new adventure. The faucet handle can be changed so you can play around with different tap handles. You can even grow a collection of your own favorite taps.
Amazon's Top-Selling Growler
When we compare the uKeg growler kegerator, we notice that it costs some extra money than growlers from other brands. Nevertheless, people seem to enjoy it as it's Amazon's top-selling growler. When you take everything into consideration like a simple pressure control and daunting design, the price is quite reasonable. 
Features:
Eye-catching design
An easy CO2 cartridge assembly
Changeable faucet tap
Bestseller on Amazon
The Best Portable Growler Kegerator
DrinkTanks Vacuum Insulated Stainless Steel Beer Growler
Lightweight Cold And Hot Beverage Container 
This 64 oz ultra-compact beer growler kegerator is both a thermos cooler and a beer dispenser. Your beer can stay fresh and cold for more than two days. And if you decide to store a hot beverage like coffee or tea, it won't go cold for about 24 hours.
Air-insulated Cover
The DrinkTanks growler is primarily used for keeping beer cold and carbonated. That's possible thanks to a dual bail closure system. The lid is secure and prevents air from getting inside. It also keeps the beer from spilling out. When you want to take the growler with you, just grab the handle and carry it with you.
Long-lasting Little Growler
Excellent quality 18/8 stainless steel makes the growler long-lasting. The interior is vacuum insulated so your beer doesn't lose its unique taste and carbonation. The exterior look is stylish and you can order the growler in many colors. This model is in color slate.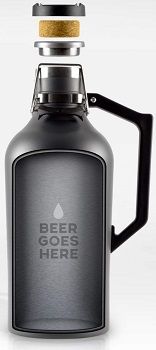 Safe To Wash It  In A Dishwasher
Whether you use it to contain beer or other beverages, wash it every time after you're done using it. It's enough to run it under hot water and some detergent. However, if you want to get rid of everything from the last refill, put it into your dishwasher.
Use It Anywhere And Anytime
From all the growler kegerators, this one is certainly the easiest to transport. You can pack it into your bag or just carry it in your hands. It's good for a cold winter stroll or a hot summer day on a beach. The DrinkTanks vessel is the only beverage container you'll ever need.
Features:
You can take it anywhere with you
Keeps the beverage cold or hot thanks to double insulation
Comes in many colors
CONCLUSION: Are The Growler Kegerators Really Worth Your Money?
Mobility and easy use are only a few reasons why the growler kegerator is the best choice for a beer lover who is constantly on the go. Don't be afraid to splurge on the creatively designed growler. You surely won't break your budget. If your biggest concern is durability, go for the BACOENG Pressurized Keg Growler. Its solid stainless steel built gives total support to your beer. For a more stylish dispenser for your beer, the small DrinkTanks Beer Growler will elegantly hide your favorite craft.
If you liked this review, make sure to also check out the beer keg dispenser article. In case you're looking for a slim cooler for your kitchen, here is a post about mini beer kegerators. In addition, to find out more about best built-in dispensers, read the article on under-counter kegerators.